Explaining Expanded Metal Mesh
Views:6 Author:Site Editor Publish Time: 2020-09-28 Origin:Site Inquire
Expanded metal mesh is made from solid sheets or plates of galvanized, carbon and stainless steel, as well as aluminum and a variety of alloys of copper, titanium,nickel, silver and other metals. Since expanded metal mesh is made from a solid sheet of metal, and it is not woven or welded - it can never unravel.
To produce expanded metal, a sheet or plate is cut and stretched at the same time. This process expands the incision into a diamond-shaped hole of uniform size and shape. Since no metal is lost during the expansion process, expanded metal is cost-effective and saves energy by saving material and allowing the manufacturing process to develop further.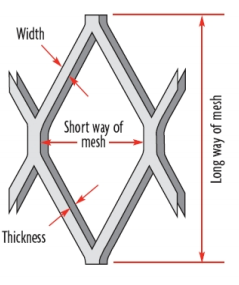 When choosing expanded metal mesh for your fence , you need to determine which style or diamond size is best for your application. Expanded metal designations are indicated by SWD (the measurement on the short way of diamond), while the second number may specify the gauge of metal, the weight per 100 square feet, or have some other significance.
Another consideration when ordering extended metal mesh panels is the actual metal wire width and metal wire thickness. These are important because they affect the actual opening size of the diamond and the percentage or visibility of the visible opening through the wall.
| | |
| --- | --- |
| | |
In addition to SWD or short distance diamonds, there is also a measurement method called LWD (long distance diamond). In fence applications, the direction of the diamond is different from the appearance of the final fence. The mesh metal mesh panel can be suspended in one of two ways-standard or reverse diamond orientation. SECUREX recommends the opposite diamond orientation: for fence purposes, a mesh metal SWD x LWD was ordered. When sorted correctly, a 4'x 8'grid will look like the diamond you see on the right in the opposite direction. Finally, the description of the flat metal mesh. The standard metal mesh is a metal mesh taken out of the press. Standard metal mesh (usually abbreviated as S, STD or R) gives the metal extra strength and stiffness and is recommended for fencing applications.